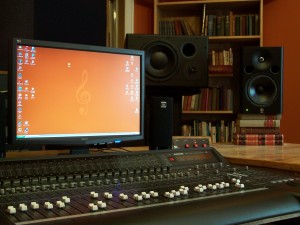 Studio B is our newest all digital room. You might choose Studio B if your project needs:
HD Recording and editing – Pro Tools compatible
Unlimited tracks
Instant mix recall – this allows you to resume/revisit mixes at any time
Completely digital path, providing clean, unaltered tone
Extended MIDI support
Video Synchronization capabilities
Sunlight! Studio has a lighter, more lively atmosphere.
Control Room – 14'x 22′
Main Room – 14'x 26′
Iso Booth – 5'x 6′
Gear:
Mackie D8B Console
TC M300XL
API 3124
Yamaha SP7 & Yamaha NS-10
Dynaudio BM15A's
Claudia Hoyser

New Single "What Kinda Man" on country radio today and climbing the Music Row Country Breakout Charts!

"Steam-EP" Now Available on iTunes, Spotify & Pandora!

Visit ClaudiaHoyser.com for more!

& Check out the GFI Music Facebook page

Please follow & like us!